5 Luxury Home Features to 'Wow' Home Buyers
Posted by Mark Gellman on Monday, October 4, 2021 at 10:14 AM
By Mark Gellman / October 4, 2021
Comment
There are many things that go into providing a truly luxurious home. It isn't simply individual appliances or even the look of the home itself; it's the entire experience of being able to have access to a wide variety of things you simply cannot find at just any home. It's the sense of accomplishment and the ability to achieve a certain status that makes one feel like they have hit the jackpot. If you're wondering what a luxury home buyer is looking for to encapsulate the whole package of luxury living, here are a number of items to keep in mind that they simply must-have.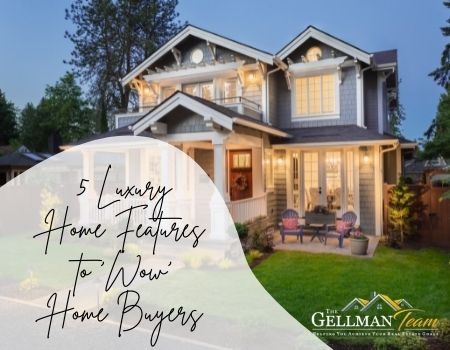 Location
First, let's start with location. Whether you're searching for a luxury home or just a home, in general, you likely care about where the home is located. Not only do you care about the location as it relates to the safety of the neighborhood, but you also want to be able to look outside and see that gorgeous view! Whether it's the view to a beautiful landscape of trees, hills, mountains, or beaches, having that visually appealing location surrounding your home adds to the luxury feel of home living. While this isn't home feature it is a huge perk.
Additionally, consider the privacy of the home. Not everyone wants to live in the city. Some like to live out in the wilderness or at least in an area they feel is mostly accessible to them. Make no mistake about it: the location of the home truly adds to its market value!
Tech
One of the blessings of living in 2021 is the continued advancement of technology. This doesn't just apply to how we communicate with one another via phones and the internet, it also applies to how we live within our own homes. Smart homes have become a trend over the years. From being able to turn off lights to raising and lowering the temperature of the thermostat to locking doors at night, convenience continues to rise due to the benefits of technology in the home. This is why luxury homes must be able to provide the very best of these conveniences.
Related: Want a Cash Offer Today?
Ease of access to indoor and outdoor activities
One of the other key amenities to have in a luxury home is the ability to have access to high-quality entertainment and fitness without needing to step outside the property. Just imagine owning your own indoor pool or basketball court or tennis court or gym. Think of being able to invite friends over to watch the newest blockbuster hit in your very own indoor theater or go for a round of bowling downstairs. This is luxury living at its finest!
Related: 4 Key Outdoor Amenities Buyers Want
Spectacular kitchen
No matter what type of living space you reside in, having a quality kitchen makes the experience of the home much better. A luxury kitchen provides all the bells and whistles of appliances while also providing plenty of space and quality counters and cabinets. Having a massive, walk-in pantry with plenty of storage space is a dream come true for many a family. All of these items and more make cooking and baking more than just a chore – they make them great experiences you simply cannot find anywhere else!
Luxury bedroom
Finally, having a luxury bedroom is more than just owning a decent mattress to sleep on at night. Magnificent walls and flooring, open space, and seemingly endless storage also contribute to this! You want to be able to walk into your bedroom at night and constantly be amazed at the beauty of your room, allowing you to wake up each morning truly feeling refreshed and prepared to tackle a busy day.
If you are not sure if your home is market-ready or if you think you might need to do something to your home before selling, contact us below or give us a call. We'd love to offer an in-home or video call to offer tips and suggestions on selling your property.