5 Ways to Save Money for a Condo
Posted by Mark Gellman on Tuesday, December 14, 2021 at 7:19 AM
By Mark Gellman / December 14, 2021
Comment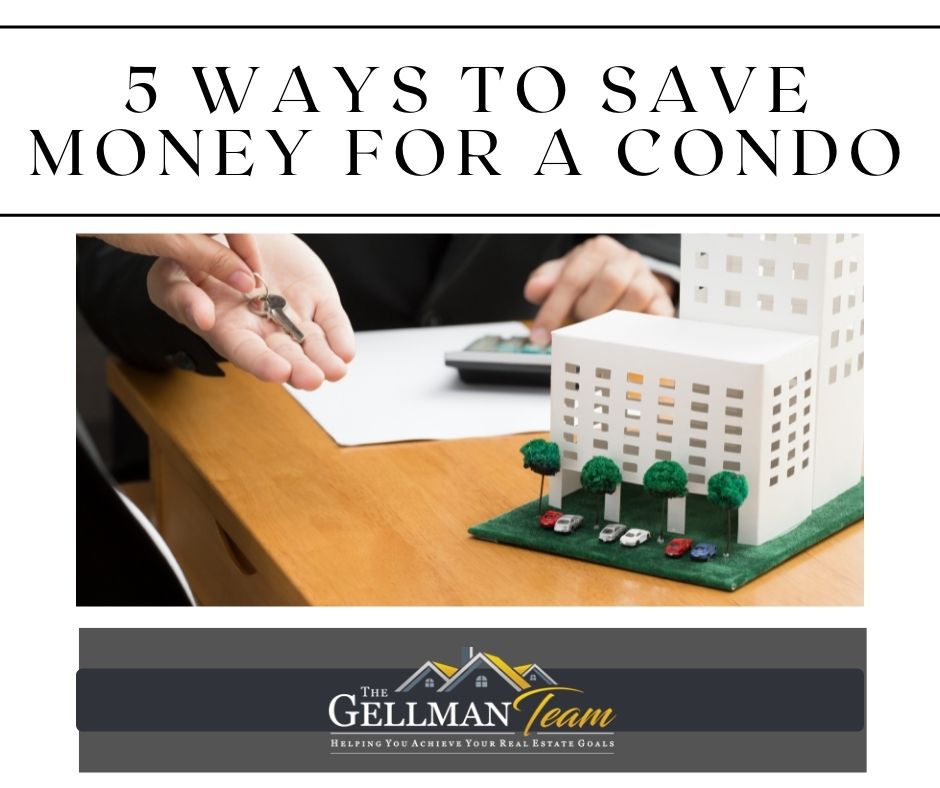 You probably know you need to save money for a condo. Down payments hardly come free nowadays.
As you prepare to buy a condo, one of the biggest factors determining when and what you can buy is the cash you have on hand. For both the down payment, closing costs, as well as moving costs, furnishing the condo, and renovation expenses, having a significant cash reserve makes all the difference.
The amount of cash you want to have on hand will vary depending on your property, your financing, and your plans.
Depending on the financing option you'll be using, you may need anywhere from 3% to 20% of the purchase price for a down payment, and somewhere between 2% and 5% of the loan amount for closing costs. Remember to factor in movers or a moving truck rental, window coverings if the property will need them, appliances if needed, furniture you'll buy for the new place, and funds for any minor renovations you want to make (things like light fixtures, faucets, and paint).
Check out our ideas for 5 ways to save cash when buying a condo:
1. Budget
The most important factor in saving money for a condo is having a plan. If you do not already have a budget in place, choosing a purpose for each dollar of your income, now is the time.
There are many ways to do this, including apps like EveryDollar, Mint, YNAB, and Honeydue. Whatever method you choose, you need to determine how much you want to save, and then divide that by the number of months you have until you plan to buy a condo. This number will tell you how much you need to save each month, and the budget will help you find those dollars and put them where they belong.
2. Check for Outdated Subscriptions
After you decide to save money for a condo and set up a budget and savings plan, take a moment to make sure you are not wasting money on unused subscriptions. Many people are spending money each month on automatic payments for subscriptions they don't use or could do without.
Check through your online bank statements for recurring payments and make sure all of them are going toward something you actually want or need. It may be worth cutting back on streaming services, subscription boxes, or other subscriptions while you save money for a condo.
According to one survey, the average consumer spends $273 per month on subscriptions or over $3,000 per year. How much money do you have going out each month that could be going towards your future condo instead?
3. Downsize
Another simple way to maximize your budget for a period of time while you save for a condo is to downsize. This might mean literally downsizing your living situation by moving into a smaller apartment or taking on a roommate (or another roommate), or it might mean downsizing your lifestyle.
It may sound too small to make a significant difference, but by looking at the small, unnecessary lifestyle expenses you have, you may find thousands of dollars to put toward your condo.
For example, while you save money for a condo you might decide to limit yourself to staycations and eliminate most or all of your travel expenses.
You may also be able to save money for a condo by changing the car you drive. Selling your car and buying an older to less flashy vehicle may result in a chunk of cash, or maybe you can turn in a lease and opt for a car with a lower monthly payment to increase the surplus in your monthly budget.
4. Alternative to a Savings Account
Many people will save money for a condo in a traditional savings account, but this may not be the best strategy. While your money is safe in a savings account, it will only grow by about 0.04% each year.
If you are planning ahead by four years or more, consider saving for a condo with a money market account.
If you plan to buy a condo in the next couple of years, you can still save your funds in a higher-yield savings account than a typical savings account. Shop around for the account with the best return to make the most of your money.
5. Pick Up A Side Gig
One great way to save money for a condo is by adding another income stream to your life. There are many flexible options for part-time work, like ride-sharing or food delivery. You may also be able to get freelance work in your field, by taking on temporary projects and dedicating that income toward the condo savings.
With some temporary focus and sacrifices, you can save money for a condo and set yourself up as an attractive candidate for mortgage lenders. Your future self will thank you when it's time to buy a condo and you have the funds for purchasing the condo and making it your own. Contact us when you're ready to start shopping!
More Advice:
Check out All the Area's Condos for Sale