Faust Park
Posted by Mark Gellman on Wednesday, October 18, 2023 at 12:03 PM
By Mark Gellman / October 18, 2023
Comment
Faust Park in Chesterfield has lots to do and much to discover; it is another one of St. Louis's history goldmines. Besides beautifully landscaped green areas, there are historical estates and a re-created historical village, a butterfly house, a mega-sized playground, a restored carousel, adventurous hiking, a music school, and many special events year-round.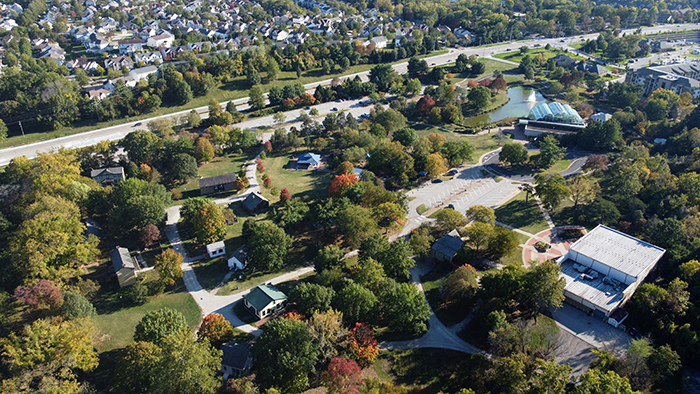 Faust Park was initially the home of Frederick Bates, Missouri's 2nd governor. The Thornhill Estate was modeled in 1819 after the Federal Style you would have found in Virginia where he migrated from. There were many locust trees on the hill where he built his home hence the name Thornhill. Bates did not actually inhabit the estate for so long. He and Nancey Opie Ball married and had three children. Bates died from pleurisy in 1825, at 48 years old, not even meeting his last-born son. Although Bates was the first to build an estate here, this area had been inhabited for much longer. Chesterfield was an ideal location for hunting and traveling being situated on the banks of the Missouri and Mississippi Rivers even in pre-historic times. Archeologists uncovered a mastodon hunter campsite, named Martens Site, that overlooks a large sinkhole filled with water in Faust Park.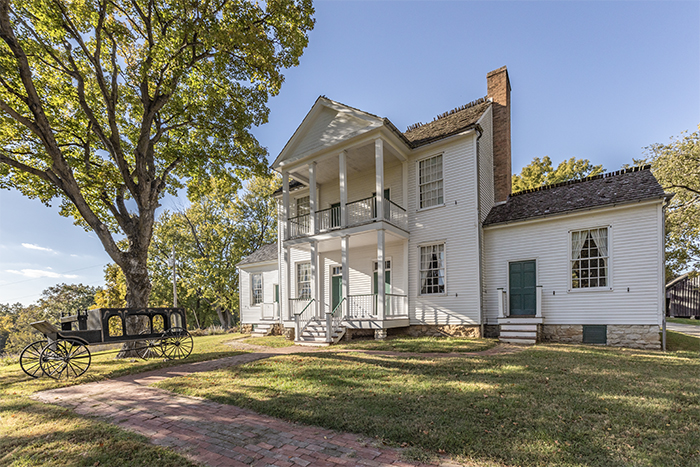 Throughout the years, the 1,000 frontier acres that were Thornhill were divided up and sold by the Bates three children. Leicester Faust had already acquired 80 acres of Thornhill when he wed Mary Plant in 1922. In 1930, the high society couple bought 98 more acres, including the Thornhill Estate. They wanted to save the home from being demolished. At that point, it became a caretaker's suite. Leicester was an executive at Anheuser-Busch. He was the grandson of Adolphus Busch and the famous restaurateur Tony Faust. Mary was descended from the founder of St. Louis, Pierre Laclede. They donated part of their land in 1974 and renovations on the Thornhill Mansion took place throughout the 80's being completed in 1990. A building was constructed to house the restored St. Louis Carousel which was initially in Forest Park circa 1921. Other historic homes and buildings from the Chesterfield area were moved to the park to be conserved. Together they created a small village. Mary had requested that the rest of her land be donated after her death, which was in1996.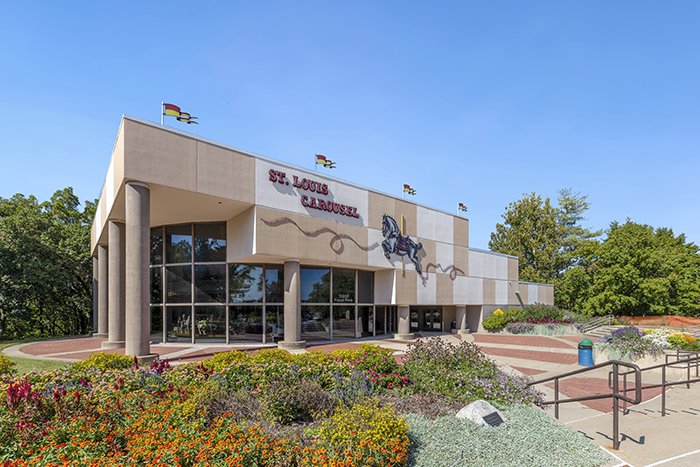 Through the generosity of the Faust Family children now take field trips to Faust Park to experience life as a child in the 19th century with the Farmsteading at Thornhill program. The kids get to haul around wood and water and they love it. They can also churn butter, rail split, and candle dip! They go through the Doctor's Garden discovering where medicine and dye came from that people used in the 1850s. Group guided tours are available for the rest of us grown-ups or if you find yourself there, just scan the QR Codes with your phone for a digital tour. If you like your history a little bit spookier, fall is a great time to visit with events such as Evening in the Cemetery where you can get up and close with the Bates in their family cemetery. For a little less spooky the Jack-O-Lantern Trail ends with stories and treats.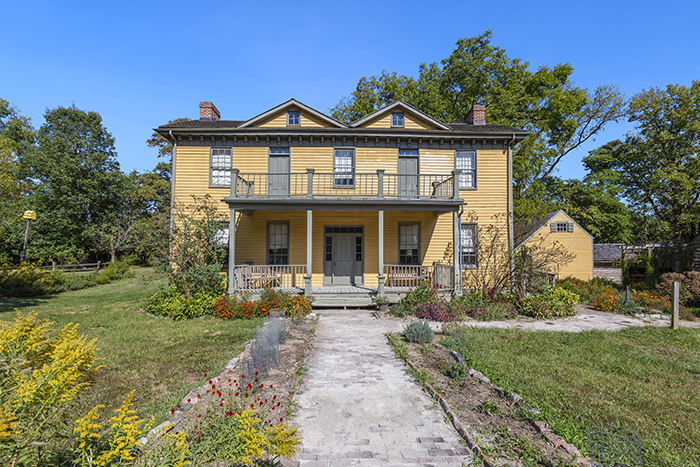 Faust Park has more to offer than history, in 1998 the Sophia M. Sacs Butterfly House opened. It was the first in the mid-west and the first given accreditation by the Association of Zoo and Aquariums for housing only invertebrates. As if the whimsy of butterflies in a tropical oasis wasn't enough the architecture and grounds surrounding must be. The building is situated on a well-maintained lake with the glass house reflecting off the water. Sculptor Robert Cassilly's massive cement insects adorn the landscaping creating a fun play and photo space. The Butterfly House, now under management by the Missouri Botanical Garden, offers many learning experiences for children within its well-designed educational spaces. They also host adult events such as Wicked Wings and Wine where guests will see night-time action from owl butterflies and encounters from the World Bird Sanctuary, have eats and drinks, and discover the Native Butterfly Garden by torchlight. March is a special time of the year to visit when The Butterfly House will stock up on giant azure blue morpho butterflies. The event, Morpho Mardi Gras, is a celebratory way to escape the last cold remnants of winter and look forward to the coming spring with awe.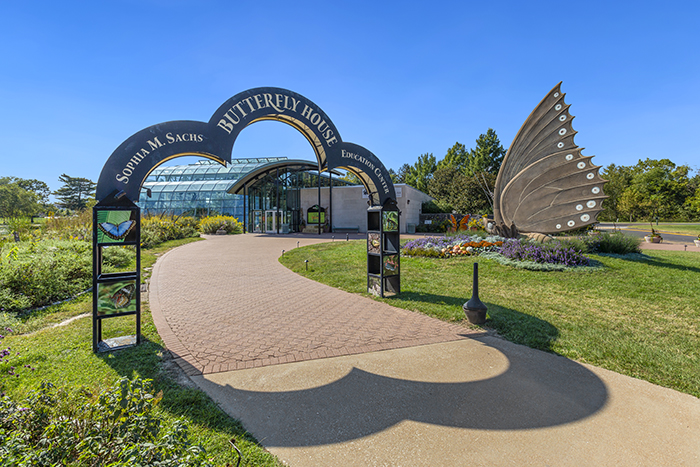 If you are curious and you drive deeper into the park, behind the large field where the park hosts summer concerts, you'll see more historic buildings and eventually come across a field with a historic barn in the background. The Lamella Roof Barn was from the Faust Family Estate, built in 1925, the first construction of its type. This is the trailhead for The Governor Bates Trail. It is a 1.3-mile linear trail of difficult terrain. Because of this, it is a great place to experience nature without too much traffic. You will have to either double back or walk completely around Faust Park to get to your vehicle. It is a beautiful hike through fields and wooded areas with opportunities to see wildlife. The Governor Bates Trail is one of the 30 hikes from the 30/30 Hikes Program from the St. Louis County Parks Department. The program is meant to be a fun fitness challenge with each hike being about 30 minutes long. If you want to become dedicated to this program you can print out a punch sheet online at the St. Louis County Webpage.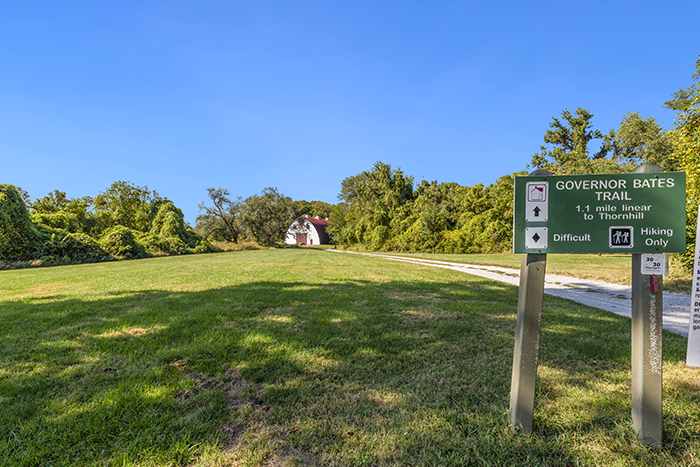 Now if you are not up for hiking you can keep driving deeper and you will come to a beautiful Pueblo Revival-style building. It was built by the famous architect Tom P. Barnett for the Faust Family. Mary Faust and Leon Strauss, who is known for renovating the Fox Theater, were both on the board of the St. Louis Symphony. They worked together to turn the building into a new branch of the Community Music School in the 1990s. The Community Music School has been teaching music since 1925. It is now a part of Webster University. They teach music to all ages and abilities. If you'd like to enrich your little one with music from an early start there is a Kindermusik program starting at 20 months.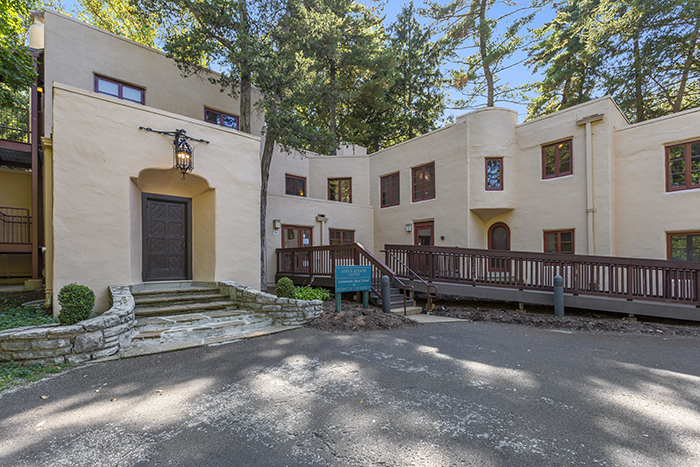 While doing any of these activities in Faust Park with children, you'll want to leave some extra time squared away for playing. The playground big enough for all the kids. There are separate areas for the littles and the bigs, rock walls, swings, and slides galore. They can even ride a dino.