Highly Rated Real Estate Agent for St. Louis MO
Posted by Mark Gellman on Tuesday, September 7, 2021 at 6:49 AM
By Mark Gellman / September 7, 2021
Comment
Whether you are buying or selling, you're probably in the market for one of the top-rated or highly rated and reviewed real estate agents. The Gellman Team is a leader in the St. Louis real estate area. From Chesterfield to Clayton, Oakland to Westwood, your next move is right around the corner.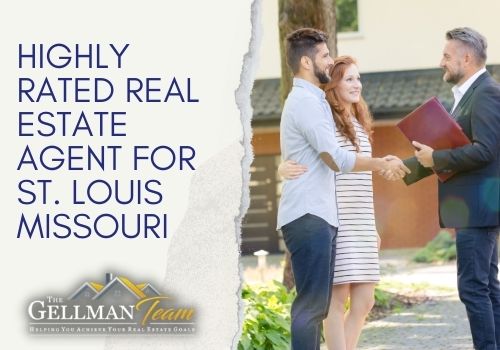 St. Louis Buyers Real Estate Agent
We take our responsibility to buyers extremely seriously. We understand that you have many choices in the real estate industry and many homebuyers simply enlist the help of the listing agent of the property they want to buy. However, in doing so, their needs, interests, and confidential negotiation strategies are not in the best interest of that agent. Only a buyer's agent is working solely for the buyer, and not the seller or the homeowner of any one particular property.
Buyers agents are completely free. So whether you're purchasing a home in Crestwood or any one of the wonderful cities around St. Louis such as Kirkwood, Ladue, Sunset Hills, University City, Brentwood, or any of the areas that we service, your needs, strategies, and finances will be kept confidential and used only in negotiating the best terms and price for your needs.
Think of it this way, if the listing agent knows all the cards you're holding, they're not as likely to give you the best deal. When the listing agent doesn't know where you're coming from, understand the finances, or how you are negotiating, they are more likely to accept your terms. The listing agent's primary goal is to sell that property for the homeowner. A buyer's agent's primary goal is to find the right home for the buyer and negotiate for the buyer's terms and price.
But don't take my word for it; here's what others have said about The Gellman Team serving as their buyer's agent:
"Mike was outstanding to work with - super knowledgeable, quick to respond/communicate, and helped me get a house at a price I didn't think I'd get it at. Would recommend (and do recommend) him to anyone."

"He really wanted us to find our house. In the past other realtors let me do all the work but he actually was very proactive. Very grateful to have someone who actually cares help. I know that I can still reach out to Mike anytime even after the purchase because he is always available. Definitely helped relieve alot of my stress while purchasing a house."
While we do help buyers find the perfect home for their needs, representing buyers is not all we do. Our agency represents sellers and investors as well.
St. Louis Listing Real Estate Agent
When it comes to selling your property you need someone that is experienced, knows the market, how to price, stage, and make your home attractive to buyers. You want buyers in the door and offers on the table. This is not the time to enlist your best friend's husband's sister that just got into the real estate business.
We are talking about hundreds of thousands of dollars of your investment money. You need someone that's not going to leave money on the table but yet not let your home sit on the market any longer than it has to. We specialize in presenting your home to thousands of potential buyers throughout the St. Louis County area.
Our goal is to help you price the home correctly from the beginning, understand your needs and what you want out of the sale, carefully listen to your motivation on selling, and offer tips and suggestions to stage and prepare your particular home for the right buyer. Each home is unique and we want to make sure that your needs, and results, and goals are the same ones we are striving after.
Contact us at any time for a listing presentation below. We would love to be your next real estate agent for St. Louis and surrounding communities and towns. If you're a buyer, start here searching all of the major cities in St. Louis County and surrounding communities.