Fill out the form below to Get Your Home Sold Guaranteed**:
*Your information will never be shared with any third party
GUARANTEED SOLD!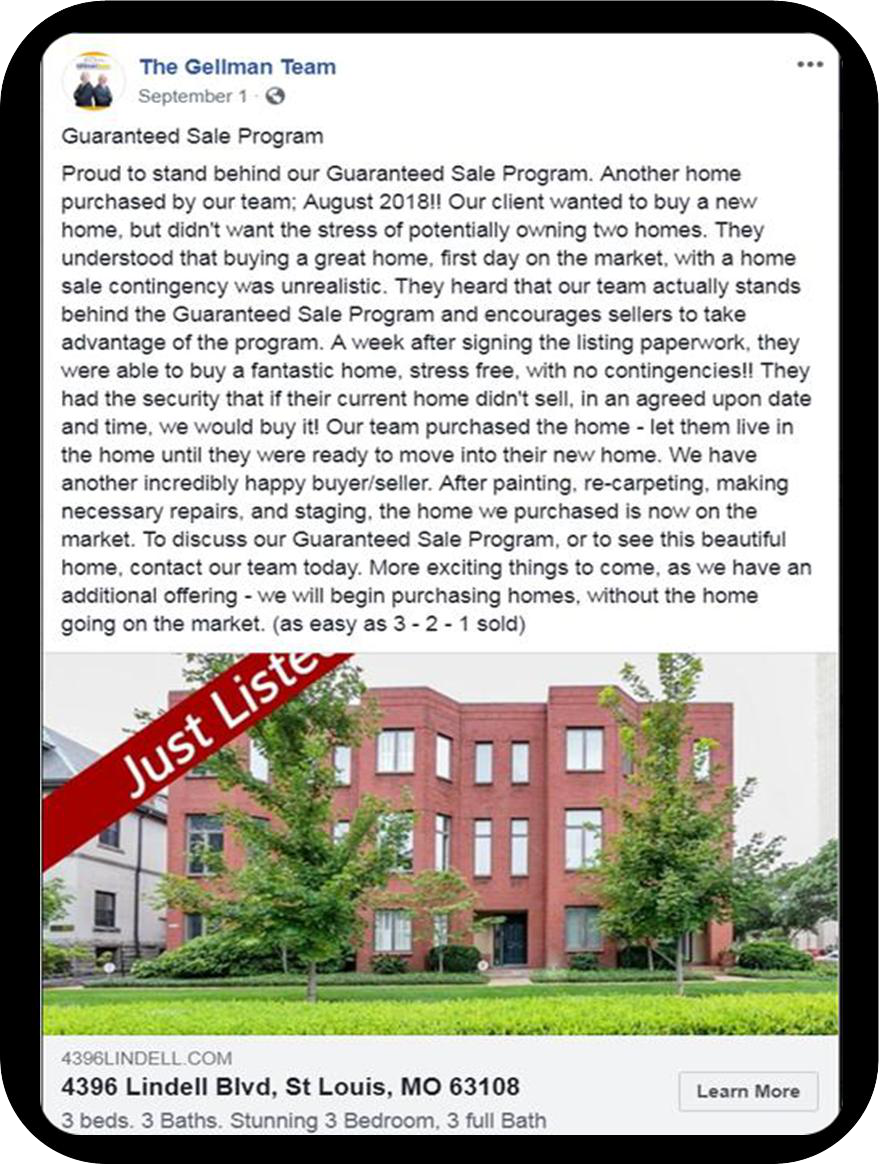 Why Would We Offer This?
The only way we could feel comfortable and confident in being able to offer this exclusive program is after years of perfecting the most productive marketing plan on the planet. We are so confident in my current plan that it NEVER varies, whether you have a smaller home or luxury mansion, the plan is the plan and it flat out works!
One of the biggest dilemmas when selling a home is deciding whether to hire a real estate agent or try to sell it yourself. Hiring the wrong real estate agent is risky because your home could end up sitting on the market for a long time without an acceptable offer or you could be forced to sell and compromise your bottom line. You could even end up owning two homes or none at all!! Well, our Guaranteed Sale Program solves this dilemma.
Is this Real?
Our approach in selling a home is not your passive, traditional marketing. Instead, we have created a Famous 92 Point Proven Home Selling Plan, which includes phone prospecting, social media, lots of video, and many other online techniques to engage buyers to look at your home and to ensure you get to the closing table. It has been proven to be the most effective marketing plan in this type of market.
We could only feel confident enough to offer this program after years of trial and error realizing what worked and didn't work in marketing homes. After selling hundreds of homes, and getting to the point where we spend over $25,000 a month in advertising for my clients, We can guarantee that my marketing plan works.
How Does This Help You?
This means when you see a home that you like, you can immediately place an offer on it. Also, if you are not completely satisfied with our customer service or marketing efforts, then you can cancel the listing and pay nothing if we don't fix the issue at hand within 24 hours. No matter what happens, you know the absolute bottom line you will get.
Do I Have to Do the Guaranteed Sale Program?
NO, this program is not for everyone. Most of our home sellers choose to enter into a non-guaranteed listing agreement but do want to know what the guaranteed price would be.
What Is My Guaranteed Price?
Once we complete a thorough on-site examination of your home we will perform a detailed market analysis and lay the entire pricing structure/suggestion out BEFORE we start marketing your home.
How Much Is My Home Worth in Today's Market?
If you would like a Free Over-The-Net Price Evaluation OR to know what your Guaranteed Price would be, please fill out the brief questionnaire below about your home and I will get back to you shortly.
Don't Believe Me? See What People Are Saying!
Hear some of our Raving Fans Testimonials!

*Certain restrictions apply

*Your information will never be shared with any third party
**Certain Restrictions Apply
As Heard On
---
As Read In